End Homelessness Winnipeg Newsletter:
August 2021
View this newsletter on Mailchimp
Video – Kíkinanaw Óma Strategy 1 Year Later Event
Kíkinanaw Óma: A Strategy to Support Unsheltered Winnipeggers was released in June 2020. The one-year anniversary of Kíkinanaw Óma offered an opportunity to reflect on progress and reaffirm next steps toward ending unsheltered homelessness in Winnipeg. On July 7, community members gathered for a virtual event to share progress and challenges in supporting unsheltered Winnipeggers during the year since the Kíkinanaw Óma Strategy was launched. Speakers included Isabel Daniels – Velma's House; Jacob Kaufman – Main Street Project Van Patrol Outreach; Melissa Stone – Ma Mawi Wi Chi Itata Centre, Astum Api Niikinaahk; Kirsten Bernas and Kris Clemens – Co-chairs, Kíkinanaw Óma Strategy. You can view an hour-long video of the event here.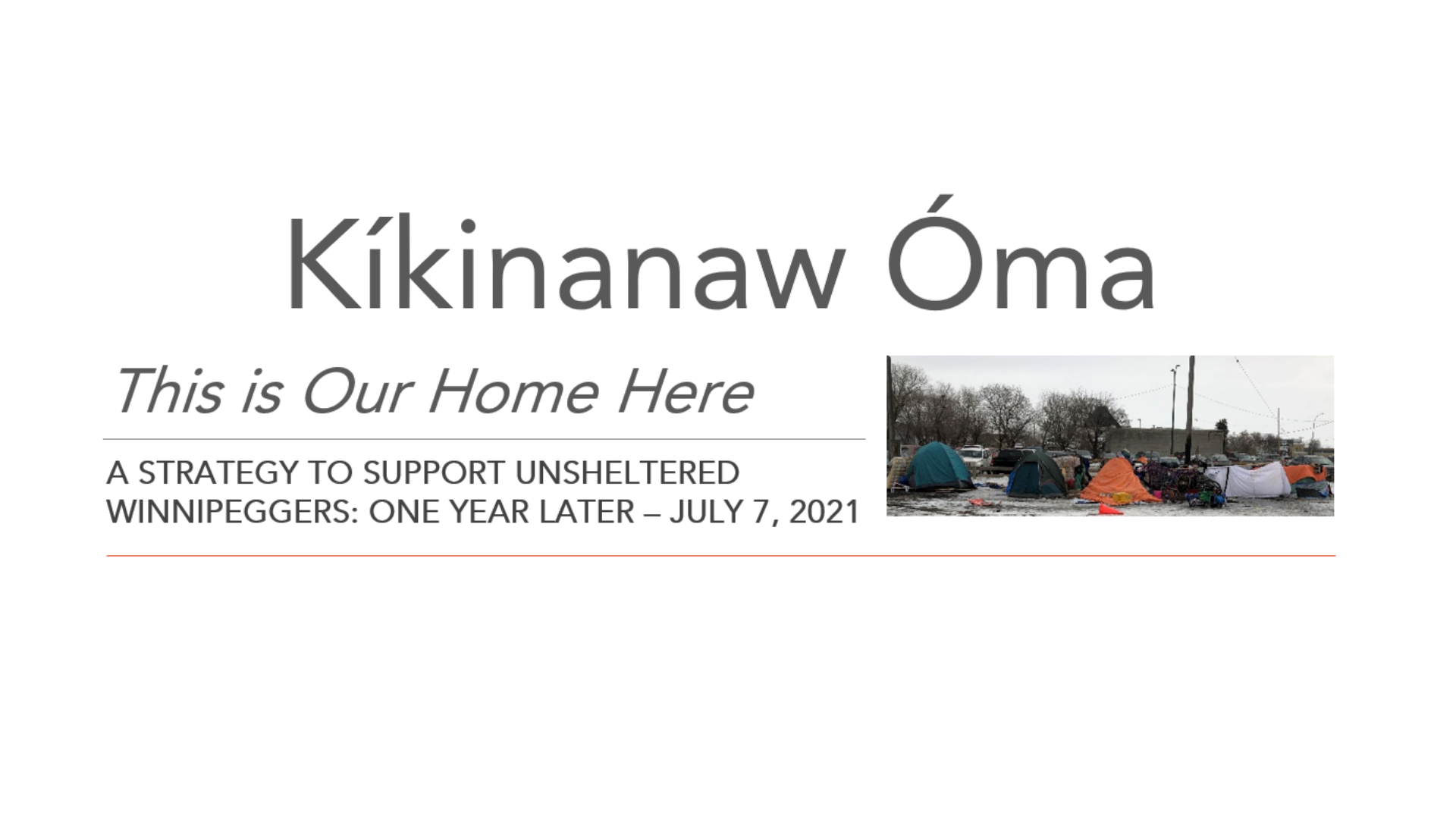 Winnipeg's Non-Emergent Encampment Support Process
The City of Winnipeg has formalized the Interim Strategy established by Kíkinanaw Óma. This Non-Emergent Encampment Support Process helps to ensure that residents of encampments on public property are connected with trained and peer community-based outreach workers who can support individuals' basic needs and provide alternate sheltering options. Find out more here. 

Join End Homelessness Winnipeg's Board of Directors
End Homelessness Winnipeg is recruiting  members to serve on its Board of Directors. Lived Experience and Indigenous candidates are especially encouraged to apply. The deadline is August 13. For more information,  please download the Call for Members.


Now Hiring: Resource Inventory Development Officer 
End Homelessness Winnipeg is hiring a Coordinated Access Resource Inventory Development Officer. Under the direction of the Director for Housing Supports, the Resource Inventory Development Officer will create and maintain a resource inventory of housing support services and housing units appropriate for people at risk of or experiencing homelessness. Click here for posting details. To apply, email a cover letter and résumé, including the position title, by 3pm on Friday, August 6, 2021 to: careers@endhomelessnesswinnipeg.ca

Ekosani, Miigwetch, Maarsii, Thank you!