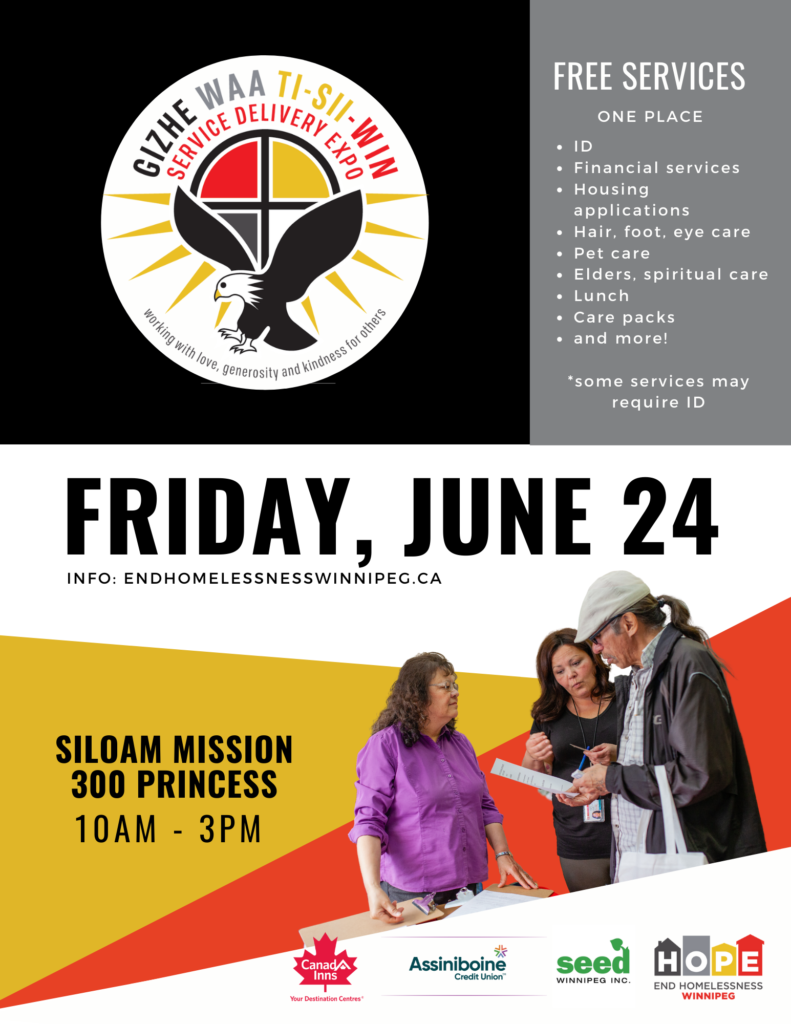 The 2023 Expo is taking place Tuesday, October 17 at Siloam Mission.
During the 2022 Expo, more than 1,000 people participated. Gitchi Miigwetch to all guests, volunteers, service providers, donors and sponsors for making this event a huge success!
The Gizhe Waa Tii-Si-Win Expo is a ground-breaking, volunteer-driven, community-based initiative. At the Expo, service providers come together across sectors, on one day and in one place, to deliver essential, dignity-enhancing services for people experiencing or at risk of homelessness, for free. The event's name aptly means "working with love, kindness and generosity for others" in Anishinaabemowin.
End Homelessness Winnipeg initiated the first Gizhe Waa Ti-Sii-Win Expo in 2018, in partnership with the Manitoba Financial Empowerment Network and local agencies. The first Expo took place at the Neeginan Centre. More than 500 guests and 100 volunteers participated. The second annual Gizhe Waa Ti-Sii-Win took place at the Salvation Army Weetamah in 2019, welcoming more than 700 guests.
The success of this event demonstrates the level of need in our community as well as the challenges individuals can face when trying to access essential supports and services. Through collective action, service providers across sectors can positively impact and transform our community to create sustainable change. Join in!
Be Our Guest
Facing housing challenges? Attend the next Expo to access a wide variety of helpful services, under one roof, for free! Click here for a Guest FAQ!
Volunteer
Please check back here for details on volunteering at future Gizhe Waa Ti-Sii-Win Expos!
Sponsor or Donate
The Expo is made possible by the generosity of Sponsors and Donors. Email us for details!
Participating Service Providers offer a wide variety of essential and dignity-enhancing services. Here's some of what guests found at the 2022 Gizhe Waa Ti-Sii-Win Service Delivery Expo:
Income Tax and Benefits Info – Canada Revenue Agency, Community Financial Counselling Services
Account Setup – RBC, Assiniboine Credit Union
Intake for Canada Pension Plan, Old Age Security, Guaranteed Income Supplement, SIN – Service Canada
EIA, Southern Chiefs Organization
Birth Certificate Applications – SEED Winnipeg
Housing Applications – Manitoba Housing, Manitoba Métis Federation
Priority intake and access to housing support workers – Sara Riel
Employment and Training – CAHRD, Canadian Muslim Women's Institute
Free Voicemail Setup – New Life Ministries
Harm Reduction supplies and Naloxone – Street Connections
Eye Exams and Glasses – Manitoba Association of Optometrists
Haircuts – MC College
Clothing and Hygiene supplies – Resource Assistance for Youth
Foot Care – WRHA, NorWest Co-Op, HOCS, Canadian Footwear
Immunizations, STI/BBI info and Testing – WRHA, Nine Circles
Addictions services – Addictions Foundation of Manitoba
Pet Care – Winnipeg Humane Society, Feed the Fur Babies Canada
Library Cards and Books – Winnipeg Public Library
Arts and Crafts – Artbeat Studio Inc
Newcomer supports – NEEDS Inc.
Safety and Crisis Supports – Downtown Community Safety Partnership, HOCS, Sabe Peacewalkers
Knowledge Keepers – Charlotte Nolin and Don Robinson
Tipi – Comm.UNITY.204