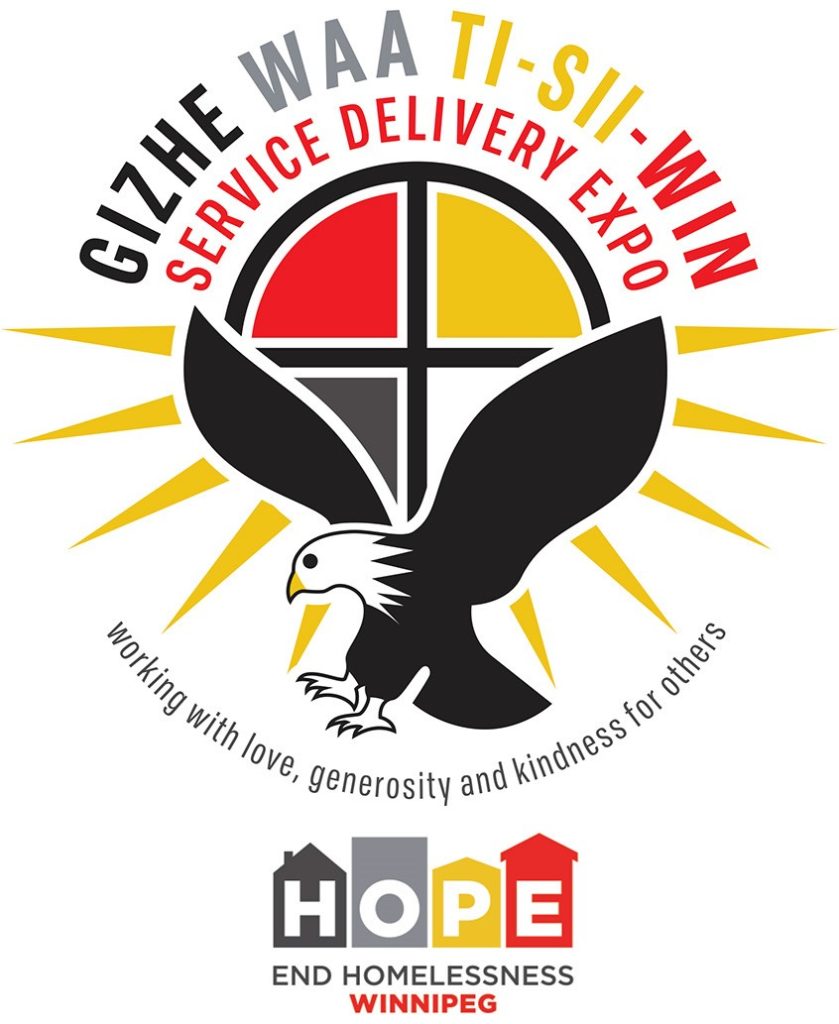 The Gizhe Waa Tii-Si-Win Expo is a ground-breaking, volunteer-driven, community-based initiative. At the Expo, service providers come together across sectors, on one day and in one place, to deliver essential, dignity-enhancing services for people experiencing or at risk of homelessness, for free. The event's name aptly means "working with love, kindness and generosity for others" in Anishinaabemowin.
End Homelessness Winnipeg initiated the first Gizhe Waa Ti-Sii-Win Expo in 2018, in partnership with the Manitoba Financial Empowerment Network and local agencies. The first Expo took place at the Neeginan Centre. More than 500 guests and 100 volunteers participated. The second annual Gizhe Waa Ti-Sii-Win took place at the Salvation Army Weetamah in 2019, welcoming more than 700 guests.
The third Gizhe Waa Ti-Sii-Win Expo will take place Friday, June 24, 2022 at Siloam Mission.
The success of this event demonstrates the level of need in our community as well as the challenges individuals can face when trying to access essential supports and services. Through collective action, service providers across sectors can positively impact and transform our community to create sustainable change. Join in!
Be Our Guest
Facing housing challenges? Attend the Expo to access a wide variety of helpful services, under one roof, for free! Click here for a Guest FAQ!
Volunteer
Gizhe Waa Ti-Sii-Win offers a variety of roles and shifts and roles, as well as on-site orientation. Check back soon for registration details!
Sponsor or Donate
The Expo is made possible by the generosity of Sponsors and Donors. Email us for details!
The 2019 Expo was made possible by generous local sponsors
as well as The North West Company, PCL, RBC, The Asper Foundation, The Manitoba Federation of Labour, Real Canadian Wholesale, BikeValet Winnipeg, Tall Grass Prairie, G&L Sales Ltd., Eco-packaging, Compost Winnipeg, Tony's Team Transport and Councillor Vivian Santos (City of Winnipeg).
Participating Service Providers offered a wide variety of essential and dignity-enhancing services at the 2019 Gizhe Waa Ti-Sii-Win Service Delivery Expo:
Bicycle Parking – BikeValet Winnipeg
Income Tax Preparation – Canada Revenue Agency
Account setup – RBC, Assiniboine Credit Union
Intake for Canada Pension Plan, Old Age Security, Guaranteed Income Supplement – Service Canada
Employment and Income Assistance (EIA) orientation – Province of Manitoba
Rent Assist, Canada Child Benefit, Pharmacare Applications – Community Financial Counselling Services
Birth Certificate Applications – SEED Winnipeg
Health Card Applications – Manitoba Health
Status Numbers and Application Forms (limited availability) – Eagle Urban Transition Centre, Assembly of Manitoba Chiefs
Harm reduction and identity verification – Main Street Project
Dental Services – University of Manitoba Dental Students' Association
Eye Exams – Manitoba Association of Optometrists
Haircuts – Rapunzel Hair Designz, AVEDA Institute Winnipeg
Makeup – Mary Kay
Portraits – Anthony Mark Photography, Inna Borysevych Photography
Dietician/Healthy Eating/Food Security – Klinic
Primary Care intake – WRHA, Northern Connections Medical Clinic, Nine Circles
Immunizations, pre-natal/post partum resource support, TB info, STI/BBI info and testing, harm reduction supply distribution – WRHA Public Nurses, ARNM
Foot Care – WRHA, NorWest Co-op, Canadian Footwear/FootHealth Centre
Acupuncture – Addictions Foundation of Manitoba
Addictions Services Intake – Addictions Foundation of Manitoba
Mental Health Resource Navigation – CMHA
Employment Search and Resume Preparation – Reaching E-Quality Employment Services, Salvation Army
Housing Applications – Manitoba Housing, SAM Management
Pet Services – Community Veterinary Outreach
Library Cards and Books – Winnipeg Public Library
Voicemail – Connect 2 Voicemail/New Life Ministries
Elder Support – Aboriginal Health and Wellness Centre
To offer services at the 2022 Gizhe Waa Ti-Sii-Win Service Delivery Expo, please contact us!