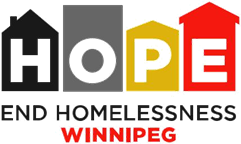 End Homelessness Winnipeg is an Indigenous mandated, collective impact organization that is committed to ending homelessness in Winnipeg.
End Homelessness Winnipeg is guided by the Truth & Reconciliation Report and its Calls to Action. Self-identifying as Indigenous or having first-hand knowledge or experience working with Indigenous communities will be considered an asset.
The Indigenous Community Training and Development Specialist will work in collaboration/cooperation with homeless serving organizations, lived experts, Knowledge Keepers, Elders and through a Training Committee to co-create teachings/learnings that will support service providers in acquiring core competencies in their direct service and team leadership work.
Posting is open until filled.
Click here for more information.
The Manager, Person-Centred Supports is responsible for supporting the development and delivery of plans, strategies, and activities that respond to the immediate needs of those experiencing homelessness by co-creating stronger pathways to a range of permanent housing options and culturally proficient, trauma-informed person-centred systems of care and will provide backbone support for coordination and outreach activities in the community.
Posting is open until filled.
Click here for more information.
The Senior Director, Strategy and Impact leads progress on strategic goals: co-creating, implementing, evaluating and reporting on End Homelessness Winnipeg strategies and plans, oversees activities aimed at addressing the historic realities, individual conditions, social conditions, systems and policies that have created and contribute to homelessness in our community, and provides leadership on strategy and oversight of the Pillar Managers.
Posting is open until filled.
Click here for more information.
As an Indigenous organization, preference will be given to Indigenous (First Nations, Métis, Inuit) candidates meeting the position requirements. All Indigenous applicants are asked to self-declare within their cover letter.